About the Hidden Disabilities Sunflower Lanyard Scheme
The Sunflower Lanyard Scheme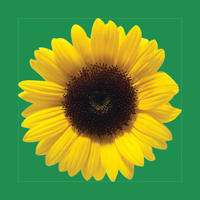 Assisting adults and children with hidden disabilities
The Sunflower Lanyard Scheme® was originally created to act as a discreet sign to staff and work colleagues that the wearer (or somebody who is with them) has a hidden disability and requires additional assistance.
The Sunflower Lanyard Scheme® was first launched at Gatwick Airport in May 2016. It has now been adopted in the UK by most of the major airport, supermarket and railway companies, as well as in the NHS. Each day, many more organisations are joining the scheme and it is also starting to be known globally. With this increased awareness, Sunflower Lanyard wearers benefit more widely from help being offered to make their daily living a little easier.
How can wearing the Hidden Disabilities Sunflower benefit you?
Wearing the Sunflower Lanyard indicates to people around you that help may be required, and that help may be different for each person. You can use the Hidden Disabilities Sunflower to tell people about the type of assistance you need – it may be as simple as a little more time. There is no qualifying list to being able to access a lanyard as we do not exclude people who have yet to be diagnosed and whose daily life is made more challenging by their hidden disability. If you feel that you are unable to have a conversation with a member of staff due to your condition, perhaps consider writing down the type of help you might need so that you can hand it to them.
Where can I find a Sunflower Lanyard?
Sunflower Lanyards are available free of charge to customers from many businesses and organisations who have joined the scheme. We want to make sure that anyone who has a hidden disability and who would benefit from the scheme has access to them. Some people may not be close to places where they are freely available and would prefer to have them delivered directly to them. If that is the case, you can contact one of the scheme members who may be able to send you a lanyard, or the lanyards are available to buy from this website.
The small cost of buying a lanyard from the website covers its production and distribution as well as employing staff to help manage the scheme and look after the website. The Sunflower Lanyard Scheme is part of Tabbers Limited, a private company based in the UK.
The Hidden Disabilities Sunflower Charitable Trust
We are really excited to announce that we are in the process of setting up a grant making charity. 10% of the revenue of each item will be donated to the charity to support Hidden Disabilities groups. We are a few weeks away from being able to launch this so please keep an eye out for the official announcement.
FOR BUSINESSES
Become a part of the Sunflower Lanyard Scheme®
The Sunflower Lanyard Scheme® is committed to help businesses recognise customers with a hidden disability and become confident to provide them with additional help or assistance. This could simply mean giving them more time to prepare or process information, using clear verbal language or allowing them to remain with their families at all times.
When you join the scheme, we will work with your business and staff to get a deeper understanding of hidden disabilities and learn how to approach and support customers with a hidden disability. You will also be provided with the Sunflower Lanyard Scheme logo as well as digital marketing materials to promote your membership.
So if you are interested in joining the scheme, please get in touch with us by email at join@hiddendisabilitiesstore.com to find out more information on how to join and set up the scheme in your organisation.
The global reach of the Sunflower scheme
While we are keen to encourage those who would benefit from using the scheme regardless of where they live, awareness of and exposure to the Sunflower Lanyard Scheme® alone are not enough for the scheme to achieve what it was designed to do.
The success of the Sunflower Lanyard Scheme® relies on organisations, businesses and services such as airports, stations and supermarkets joining it. If you think this is something your organisation is interested in joining, please email us at join@hiddendisabilitiesstore.com. to discuss the next steps.
About the Hidden Disabilities Sunflower scheme
The Hidden Disabilities Sunflower has been purposefully designed to acts as a discreet sign to staff and work colleagues that the wearer has a hidden disability and requires additional assistance. It has been successfully introduced to several major UK airports, supermarkets, railway stations and sports venues.


Hidden Disabilities Store
Delivery
Royal Mail - please allow 2-3 working days for delivery.
Please contact us at join@hidendisabilitiesstore.com for all orders over 50 items
© 2019 Tabbers Limited. All Rights Reserved.
This site uses cookies. Some of these are essential to provide all of the site's features and to store your preferences. To find out more on what data is contained in the cookies, please see our privacy policy page, which we've updated in accordance with the General Data Protection Regulation (GDPR). To accept cookies from this site, please click the Allow button below.